Today, more than ever, effective, forward-looking public service matters. The Dick Pratt Endowed Scholarship seeks to help build the future of public service in Hawaiʻi and the Asia-Pacific. The Scholarship is named after Dick, who played a critical role as PUBA's founder and leader for many years, but it was established and is being stewarded by PUBA alumni.
Every spring, the Scholarship makes awards to one or more individuals currently enrolled who shows exceptional promise for work that will benefit our communities. The size of the award continues to increase, and this year's award will be $3000.
The scholarship committee encourages alumni and supporters of PUBA to help us build the next generation of public service leaders by contributing to the fund. Please consider a tax-deductible donation via the UH Foundation https://giving.uhfoundation.org/funds/12756104.
Mahalo,
Dick Pratt Endowed Scholarship Committee
---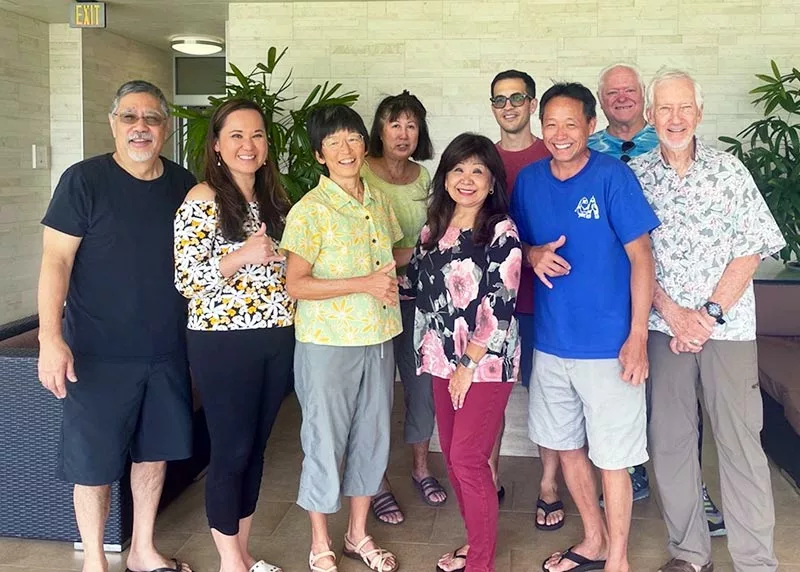 L-R: Keith Yamamoto ('92), Larissa Kick ('05), Debra Shiraishi-Pratt ('96), Charlene Young ('85), Ann Kinningham ('99), Kenyon Tam ('15), Kelly Ching ('05), Mike Golojuch ('96) and Dick Pratt.
Not pictured, Amy Luke ('19).
Gayle Hamasaki ('05) was a founding member and contributed immensely to steward the start-up of the scholarship; however, she will be pursuing other volunteer endeavors –Mahalo Gayle!